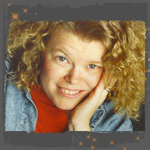 We are chaotic, inseparable friends. I have been an artist all my life, producing art for the entertainment industry for 25 years, with costume and puppet design, scenery design and art direction for Stage/TV/Film. The work, however, has always been produced for someone else, never just for myself. In the last part of the last century, I realized that there was nothing "real" about what I did. Too many times my art was illusionary and, while some like the temporary nature of experiential art, I longed for something more concrete. Still, I was able to earn a living and I was good at it. Dealing with the issue created complications; you know, chaos.


In 2007, a serious auto accident forced the issue. At the time, I didn't believe injuries would hinder artistic pursuit, but with therapy came hard truth. I was unable physically to do the large works I loved. Constant impediments impaired my focus and emotional recuperation was slow and frustrating. I didn't produce anything artistic for two years.
I was a desperate "artist in transition"--and fearful! How could I "do" art as a career when I couldn't "work for hire" any longer? I don't remember exactly what brought the silver clay medium to my attention, but curiosity led me to pick up a magazine featuring Maria Martinez's woven metal clay pieces. Suddenly all my experience with 3-dimensional media, jewelry, weaving, sculpture, fibers, wood, and plastics synthesized into a perfect union! I researched the medium exhaustively (I think I've read everything written on the subject!). My interest quickly became a passion, but I was still afraid to pick it up. Could I do this? Would I be able to produce "art" with this medium? And Fear? Could I make a living at it? I knew I couldn't separate my art from who I am. Doing art is breath to me. It is what I do. It is who I am. How could Art and Fear and I be reconciled to bring me back?

The physical components were easy enough. My family bought a kiln on Ebay. I purchased silver and tools and gemstones. I refreshed my knowledge about metals and processes. But still the kiln sat on the floor in my bedroom and the packages of silver and tools were unused. Then someone said, "What is holding you back?"
I addressed Fear first. I've taught many people how to paint, construct, draw, sew, create. That wasn't the problem--you name it, if it was 3-dimensional, I wasn't intimidated. It wasn't production that scared me--it was reception. Over the years I had become conditioned to equate the value of my art (and myself) with how much I was paid for it.
If I started another "career" with all new tools, investments, and media, would I be accepted for my work? Could I make a living? Would I be deemed "worthy"? It's a scary proposition to consider "doing art" at my age for free, but I knew that was the question confronting me! Finally, Grace and Reality got my attention. I was to do what I was. Just that simple. Fear was an intruder that I was listening to whole-heartedly and the answer to being an artist is? TA-DAHHHH! To be an artist! I tore open my first package of metal clay and after some initial doubts and Fear's whispering, I got on with the business of being me and everything I am supposed to be and have never looked back.


Chaos and I are good friends. I always loved Nietzsche's quote "You must carry a chaos within you to give birth to a dancing star. . ." But in my confrontation with Grace and Eternity and my place in it and my knowledge that heavenly force had a stronger hold in my life than Fear, I decided to change the quote to "You must carry a chaos within you to give birth to a Divine spark . . ." I unashamedly cling to God's dominion in my life and He and I have a good laugh with our friend Chaos.


Inseparable? Yes. Productive? Yes. Fulfilled? Yes. Hungry for more of everything? Always! It is my hope that you enjoy my art and are inspired by it. But even if you don't, find joy in the knowledge that it is possible for an individual to find peace and accomplishment in the union of the sacred and the temporal. We can be whole. We are eternal.
POSTSCRIPT TO THE FUTURE--
A few years ago a very close friend of mine passed away after battling lymphoma several months. In the last few weeks of his life, I created the first few pieces of the GUARD MY LIFE jewelry to commemorate the blessing he was in so many people's lives. He and I knew he was losing the battle, but even to the remaining hours of his life, he remained optimistic and full of the joy of Christ. I (and many others) still grieve his leaving, but rejoice that he is no longer suffering. Of all people who have known me as an artist, he understood me best (after all, he was an artist himself!) and less than a week before he died, we realized some things about art and ourselves and how God creates us to be what we are ETERNALLY. I was created to be an artist and I will be one forever. My friend encouraged me to pursue everything artistically and spiritually that God had for me in this world and to put everything I am and everything I do "on the table for God!" RADICAL FAITH Christian jewelry is the result and I am trusting God to bear fruit with that as I attempt to honor Him with art. But something even more important has changed in my life. I was always a behind-the-scenes artist and believed I was one of those called to support the others out-in-front. I have come to the firm conviction that we are living in the end times and I unashamedly am structuring my life submitted to God, asking myself every day "Well, you believe this, so what are you going to do about it and how is this belief going to affect your words and actions today?" I share this with you so that you might start asking yourself questions that are bigger than you are, so that the Holy Spirit will be invited into your life to help you find the answers. I have re-framed my business and website so that if you did nothing but go from one Christian item to another and read everything under the Product Information, you would find the directions to asking the right questions. I do not know you, but I pray that everyone who reads this is touched in a miraculous way with the saving Grace of the Lord Jesus Christ.